Video, audio and H5P
Embedded videos do not attract copyright but they run the risk of being taken down.
Host your own video and audio creations, or CC licensed/ public domain content
How to Embed Media, BC Campus, 2019
H5P Content will only appear in web – it will not appear in PDF format or EPUB printouts of your textbook. You will get a placeholder like the one below.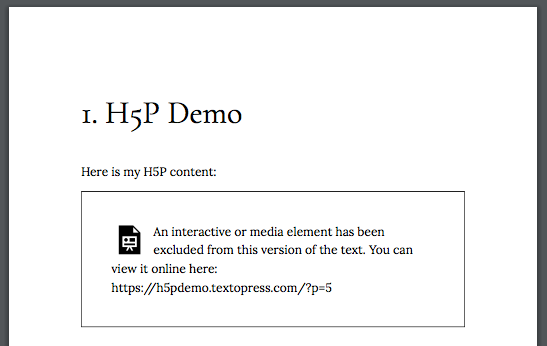 See H5P Interactive Content in the Pressbooks User Guide by Book Oven Inc. (Pressbooks.com) is licensed under a Creative Commons Attribution 4.0 International License, except where otherwise noted.
Video Attributions
Linking/ embedding videos in PB will not attract copyright, but the video may be taken down.
If the video that you want to include has been allocated a CC license, you would be able to download the video and host it within your OER as long as you included the CC license with it.
"Open Access Explained!" by Piled Higher and Deeper (PHD Comics). CC BY (Attribution)
For more information see the Pressbooks Guide and the following chapter in the Pressbooks User Guide: Embedded Media & Interactive Content.
For creating your own videos and audio content in your OERs
TRU's Learning Innovations Team:
If you need any assistance creating your own materials, contact the LTI office at learningtech@tru.ca is the best email.
https://moodle.tru.ca/course/view.php?id=13249&section=19
TRU's Kaltura service within Moodle.Kaltura can help you create videos and create transcripts! (think accessibility!)
Loom to record instruction/ demo video/ audio
H5P will let you create formative assessments on the spot!

Don't forget to CC license your materials!